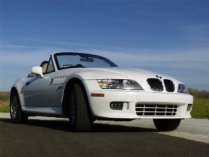 2000 Z3 Roadster




Ever since the Z3 roadster was introduced in 1996, I knew I wanted one. When the 2.8 liter model came out in 1997, I knew I really wanted one! I waited and waited for used models to come down in price, and finally determined that they hold their value too well... I might as well just buy a new one. I can't tell you how many times I built my car on the BMW website... here's what I came up with:
Z3 2.8
Alpine White, Black top, Beige leather
On-board computer
Heated sport seats
Power operated soft top
In-dash CD player
After-Market Upgrades: Here are some pictures of the car:

affordable models of the Z3 and M3 Roadsters.

Email Dave
This page was retrieved from archive.org January 2009 because Dave's site is gone
Dave's Ground Control pages