From:	Devon.Davis

Spare Tire For the M roadster.  I discovered that Kumho makes an
ecsta tire that is 205/40/17.  This tire on a 17" rim and inflated 
will fit in the trunk.  I have driven with this spare on the front and back
to test it out.  Works great, drives a little odd since the tire is shorter
than the standard tire, but it is a real tire so not limited to 50 miles
at 55mph or anything like that.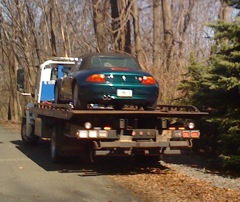 Esmerelda's Home Page~ Z3ers.com

all material on these pages is copyrighted