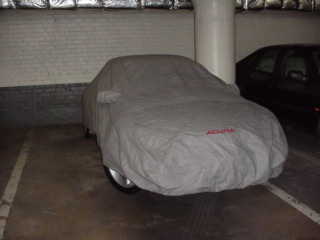 Tom Y writes:

(New York City) These photos were taken during the duress of cabin fever in Late February...
The NYC garage spot leaves us city folk envious of my cousin cars living in suburban delight. Last Fall, sometime after the cruise, my car earned its first badge as a new york car - big enough of a ding to not only bother me but infuriate me.
This parking spot is relatively well protected against the traffic, and is categorized a "Self-Park" spot...coveted property in NYC as the attendants do not have keys, basically its MY dedicated parking spot. I learned the ulterior motive from my garage manager when he offered this spot to me..Since the car is a "self-parker" the attendants do not check-in the car, thus they will not admit any liability.
The spot next to me is used by a genuine NYC detective (and is a big fan of the car) Well, when he pulls out, someone else pulls in and one day, I discovered damage to the gills, and a few busted pieces of plastic.
The first thing I did was contact Keith at Z3 Solutions and purchased some magnetic door guards, in fact I bought extra material to build up the protection in this one vulnerable spot. Very soon, I shall publish the specifications of a "stealth" video surveillance system in which I hope will deter future mishaps in the garage.

It was going to see the damage on Tom's car that inspired me to create the garage pages.
When you see how much trouble he goes to, to protect his car in the garage, parking ridiculously close to the far pole every time, putting 3 doorguards on his fender, knowing his attendants and the owner of the car next to him, and still getting hit and stuck with the bill, you get an idea of how much we love these cars and how hard it is to keep them nice. Good Luck Tom!
April 27 update:
This is Tom's car's hideaway in Rockaway. He has to share with a nice big caddy, but it's all in the family!