Homecoming 2000
Survivor Shag

2 of 6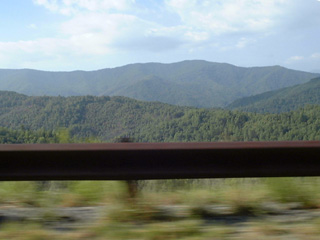 *small download* ~ 2.9mgs avi
The plan was to get up and find the place where Teachum's group was lunching in Lexington, and join them on the Midwest caravan to Knoxville. Instead, we wanted to put as much mileage as possible between us and the Travelodge. We hit the ground running and blew straight by Lexington.
3 hours of Interstate later, we were munching BBQ in Knoxville. (Bubba's?) Given the choice of hotel or twisties, we naturally chose twisties. Or rather, the ultimate Extreme Twisty- the Dragon. We set off straightaway for the Dragon, to hell with check-in. We knew our concierge-level reservations were guaranteed thanks to Teachum. (HUZZAH!)
Just as the road began to twitch, we found Earl, the CNYN RNR, heading toward us in his unmistakable white with blue vinyl striped newborn 3.0. Perfect. I had met Earl in NYC for caviar, driven with him at the Malibu Canyon Run and here he was, at just the right moment to run the Dragon with us.
Once again, the Z3s had the road all to themselves. Awesome. Earl shopped with us at Deal's Gap- I bought all the old "Crossroads of Time" stuff. The new owners are ditching the old name. Things change. Earl set off for the Hilton, as he had just run the Dragon up alone, and then down with us, and now again up alone.
At this point, the combination of my mobile library and DaveT's GPS was an unbeatable combination. I had taken so many routes in my head in this area, I wanted to drive them all. (I am thinking of next year and possibly a couple days staying over in the Dragon area, just to ride all the roads.) We'd set off for one route, and when I would take the wrong turn, DaveT would see it on his GPS and voilą, we're were back on the right road.
We trailed down 28, cut over to 129, loving every second of it. The road to Cherohala is gorgeous, and Cherohala is unspeakably pretty. At this point I must apologize for the images, they all stink. All you are seeing is the BAD parts of the road, there was no way to take pics of the good parts.
Timing was absolutely perfect for Cherohala, around 6pm the sun is low in the sky, and we drove into the sunset to dinner at Carlin's Landing. More BBQ, natch. Later I learned that Cherohala has a bad reputation as a speed trap. Lucky I didn't know it that day, as once again, we had the road entirely to ourselves, and took it like beasts. And once again, the moment we stopped, we got a phone call f rom JonT. "Where are you guys?" Heaven Jon, heaven.
JonT told us where the local car washing joint could be found so after dinner DaveT and I went to wash 4 states off our cars. I almost regretted washing off Dragon dirt. One more thing... ladies... I ask you... when you look at the dirty grin on Emmy's face... uh... what does that remind you of?
Anyway.... we washed for a while, a police officer parked watching us... when we got in to the Hilton, one of the Midwest fellas warned me that it was supposed to rain. He said not to bother covering the car because then I would have to carry a wet car cover to South Carolina. Good point.