Homecoming 2000
Survivor Shag

4 of 6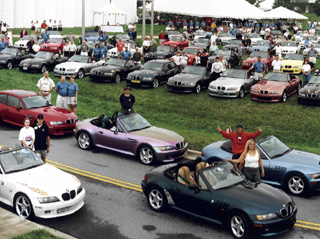 Big download ~ 11.8mgs mpeg
Friday- I was late for everything, chose the Marriott breakfast bar over the Michelin lecture- but made it in time to learn a little. The Michelin guy was great. I caught up with Earl a little. JonT and DaveT and I had the same tour time (how does Amy figure out those times???) so we donned our long pants and covered shoes and headed for the Zentrum. It was DaveT's first look at the Zentrum. Can you say "Kid in candy store"? Our guide, Chris, was very knowlegeable and I learned more about the cars from her tour. Yes, the factory CAN tell your dealer EXACTLY where your car is in production. When you have to replace a body part, as much as the paint will be stronger, the part will not have "e coat", so even with rust protection, the new part is not as good. Never the same.
I got split with DaveT and JonT followed Carter and BimmerSteven to BiLo, bought some bleach for a stained white dress (dunno how that happened, probably opened trunk in the rain) and fruit and drinks. By the time I was back in the hotel supposedly waiting for JonT and DaveT, I took a bath and a rest. By the time I found them, they had already washed their cars. I whined a bunch and they waited for me along with MW to wash and dry Emmy and change to head to the Peace Center. A couple others tagged along, Dave and Dina (?) which was very funny since they were following me and I only had a small clue about how to get there.
Peace Center was a blast and a half, some of us trying to figure out how to snarf an extra gift- neato thermoses from BMW THANK YOU! We took pics and danced to the surprisingly very good blues band, listened to Ken Sparks, ate and drank and met a zillion more friends. Mary Battaglia told me the story of her ride to Homecoming, receiving a tire tread through her windshield outside of Memphis. I formally handed my crown of "the girl who got hit on the way to Homecoming" to Mary, happily. I caught up with Sue and Bob Highfield, wearing matching yellow to their new 2.3. Their 1.9 died in battle, defending them from being crunched between two 18 wheelers on an Interstate outside of Kansas. Paraphrasing, THANK YOU, BMW ENGINEERS FOR SAVING THEIR LIVES. I met Sonia, another Z3 Girl there. Yakking it up so much we nearly missed seeing the miles o' Z3s on Main Street. Dave and Dina, where are those pics???? Never ceases to amaze me seeing the cars on Main Street. Always something new and different. Saw some Pearl Beige and Pistachio Z3s (gorgeous, if they get any closer to gold I will be tempted, don't tell Emmy), riotous vanity plates and a trunk that literally cost an arm and a leg... but I need pics for that....
Ah well, I could party all night and sleep in now, I won that front row space in the panoramic pic... and Emmy was just cleaned so I covered her up, again with help from friends.
Just after we walked into the lobby, it started to pour again. I guess it's finally safe to say it, but we totally lucked out every single time with the rain. We'd drive where we wanted in sunshine, get somewhere, go inside, and boom, rain. Come outside to drive- sunshine, all the way down, all the way back, and everywhere in between. OK a couple times we had to put up our tops, but only for a few minutes.
In our gracious BMW picnic baskets (must be said in Yogi Bear voice, "pic-a-nic baskets") was a nice bottle of Chianti. Back at the hotel, the party by the pool was rained out- just after we arrived, heavy rain. I was in the lobby drinking Chianti in a crowd of Z3ers all revved up with Z3 fever. Carter and friends invited all comers to view a preview of the Homecoming 99 tape and off we went. The HC99 (and 00?) tape is awesome so far. I rolled off to my room somewhere after midnight.
Saturday morning was a bit lonely at the Marriott, with everyone out lining up. Rain was threatening with a sky completely gray and foreboding. When is the right time to show up and take the front row of a picture when 900 other people have been there for hours? Apparently one fellow got there at midnight and stayed up all night for his spot. Kept the BMW plant security guard up all night too...
I was wishing I had a peignoir and little bedroom slippers to wear for the pic as I headed out to the car. I was a little worried about getting the soaking wet car cover off and what the car would look like.
The BMW car cover is not waterproof, but it kept enough out that all I needed to do was a couple quick wipes here and there.
At the front of the panoramic pic, I met the other winners, the other winner's dogs, had Laurie flash me her BMW Roundel boobs (new for Y2K, a sports bra) found the Lesters and a half dozen other Z3s with magnetic flames on their hoods. Saturday was again a blur.