Step 4- The Midwest Party
There was so much going on from this point on that I am not sure how to tell it but here goes:
The BMW Store was offering discounts on everything and had tons of people running around in white lab coats like a scene from "ER". Dave P pulled in and his car was nearly surrounded by white coats murmuring over the patient with conscious concern. I think they ended up just pulling fuse 31 and reinstalling it and he was on his way again. Emmy finally got her Dinan Strut Brace (we call it her Strut Bracelet- she loves jewelry). They also did the second inspection on her and washed her and DaveP's car and JonT's car.
Meanwhile, back at the cookout we caught up with the Midwest Shaggers who were continuing to Nashville, yakked it up with the Pigeon Forge contingent, posed for photos, and exchanged convoy toys. We all got Midwest Convoy T-shirts, we Shag Magged some of them and JonT had Shag T shirts for the new Shaggers, and I got a copy of Teachum's Midwest Convoy music- which would become crucial later.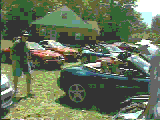 The first thing I saw when we pulled in was Carter videotaping everything. I finally got to meet and hug KathyM. We saw again Dave and Beth, the Buckeye Virgins we had met in Pennsylvania on a local cruise and found out that these people were far from being virgins of any sort. They'd already done the Dragon and been to Homecoming and everything. I met Carita and Bob for lunch, Jon T bought the last cigarette-lighter powered reading light and we shopped our little hearts out.
Thank you Laurie for an excellent and much needed stop on the way to Nashville. Without you I would not have had my wonderful strut bracelet for the rest of the trip- or at all since I never had time anywhere else and Dave P would have been S.O.L. with that Check Engine Light stuff until Nashville!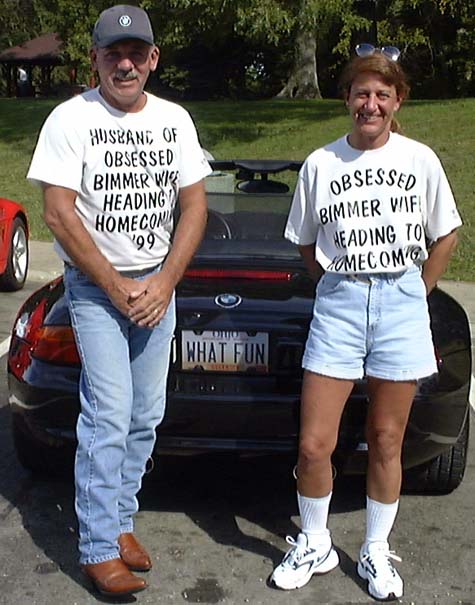 We got a little screwed up on the departure, I am sorry we missed a couple people. I saw Carter leaving early to help out JohnB in Nashville and I thought maybe if we went a leetle over the speed limit we could catch him and Steve.