Step 5- My Old Kentucky Home
There is actually a state park called "My Old Kentucky Home". I know that song from when I was 12 in summer camp. Somehow we missed the Kentucky Shaggers, I didn't know they were coming and I think I still have their Shag Mag. (Donna, write me?) We got caught in some construction detours getting out of "Sin"ci but as soon as we got past it the road opened up in front of us. This ride was beautiful, in fact all the daylight rides were gorgeous- except Ohio. Naturally we were going a leetle faster than the speed limit and I was way out in front. I could never hear what people were saying on the talkabouts, there was some mumbling and I was saying "What? What?" when I saw our two silver M's come flying by me as if I was standing still. Or as if I was going backwards. It was a pretty sight to see. They wanted to see what the performance difference was between Howie's M with the Dinan chip and Chris's without it. Let's just say they got their answers (wink). I was on the lookout for blue grass, and I didn't actually see blue grass but there was a nice bluish cast to the green hills as we drove by.
The M's dropped back and I was leading again. Then it got real quiet. I told the Shaggers to set their clocks back as we passed the boundary for Central Time. I was calling them on the radio and I thought maybe the hills were blocking their FSR signal. We had worked out a plan for calling each other on cell phones in case anyone got lost and no one had called me but I started calling the Shaggers. JonT's phone wasn't working. Howie's phone was a wrong number. Sherry answered Bill Z's phone and said they were pulling off the road because Joanne needed gas. I looked at my gas gauge- I had nearly half a tank. Something was wrong with this picture. Even though Joanne drives an automatic it's hard to believe she only gets 150 miles on a tank of gas. JeffS thought we should exit at exit 79 in Kentucky instead of Tennessee. I called his cell phone. JeffS and the other half of the Shaggers had stopped for gas but not at the same place as Joanne and BillZ.
Emmy and I were nearly 10 miles down the road, going a leetle faster than the speed limit with nearly a half a tank of gas and her new strut bracelet working those interstate curves like a dream come true. That is when I noticed the Kentucky State Trooper on my left side. He made a sign like "thumbs down" and I dropped the phone.
It had been another personal goal of mine to make the whole trip without getting any damage to my car and without getting a speeding ticket- because I had been there and done that on both issues last year. On the other hand, without my convoy covering my "back door" as they say on the CB and considering how fast I had been driving, I was vulnerable.
And then another miracle. The state trooper went away. Just like that. ::::poof:::
I considered my options.
It was like Chanukah- my gas tank lasting 8 days longer than my convoy and the state trooper miraculously letting me go. I decided it was an omen and kept driving. I knew the Shaggers were in good hands with JonT and BillZ, the remaining Shag leaders, and they knew as much as I did about how to get to BMW Nashville.
I turned on the CB radio and rode with the truckers the rest of the way.
Just inside the Tennessee border I stopped for gas. Although the gas station looked like a scene from "Deliverance" all the people were very polite.
Back on I-65 I headed for Nashville. It was a peaceful moment when I looked in the rear view mirror and saw Carter and Steve behind me, taping.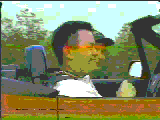 Again, I had gotten exactly what I had wished for.
We rode together for a while and then they took a wrong turn and I continued on to Nashville using 440 to get back on I-65 exit 79.
I knew I was on the right road when I saw a Dakar yellow M as I took the exit.
Paul Q writes:
was not a YELLOW M, This was a 1997 1.9 DAKAR YELLOW
Even better.
As we came around the bend we picked up 2 more Z3's. It was a wonderful feeling hooking up with all these Z3'ers coming together in Nashville at the same time. Homecoming had begun.