Step 6- JohnB's Nashville Bash
I have a feeling my hair looked like Nancy and Sluggo and I stunk so bad I could smell it myself when I got into BMW of Nashville. Happily the spices in the Corky's BBQ pulled pork wafted through the air and obscured my aroma. The Shaggers were there within a minute. I was so busy eating and drinking and yakking and meeting people I am sorry I didn't have a chance to shop before the store at BMW Nashville closed. There were representatives from BMW Nashville and even someone from the BMW factory came to party with us in a lovely new Estoril Blue M.
Robert and JohnB gave us the briefing for the next day's ride and I knew I wasn't going to be looking at any maps at any point the next day. My best bet would be to follow someone who knew the way so I resolved to wake up early and find Robert and JohnB and follow them as best as I could, and if I fell behind maybe I could follow the later Z3ers.
No breakfast would be served that early so Bryan and I set out to find a supermarket for breakfast provisions. First I checked in and bathed, and noticed the room didn't have a fridge. Bryan suggested filling up the sink with ice and storing the food in the sink until morning. Good plan. So off we went in search of food, and I had less than half a brain cell functioning. Driving behind Bryan is fun, his car sounds great, his stereo is so loud I don't need to use mine, and those turned up chrome exhaust pipes look sweet. (Pronounced so-WHEAT). OK so it didn't matter it took us an hour to find the supermarket across the street. It had such a weird name, like Mr. Tweety or something, I wouldn't have recognized it on my own. I got grapes and cottage cheese. The supermarket was just closing. Then we headed to JohnB's place and got a bit lost again but finally made it in time to find 5 gallon jugs of Shiner waiting (gosh that beer is good!) and Alan flaming his own board. His fingers type a leetle faster than the human speed limit. Kinda reminds me of Data filing chips on the last Star Trek series.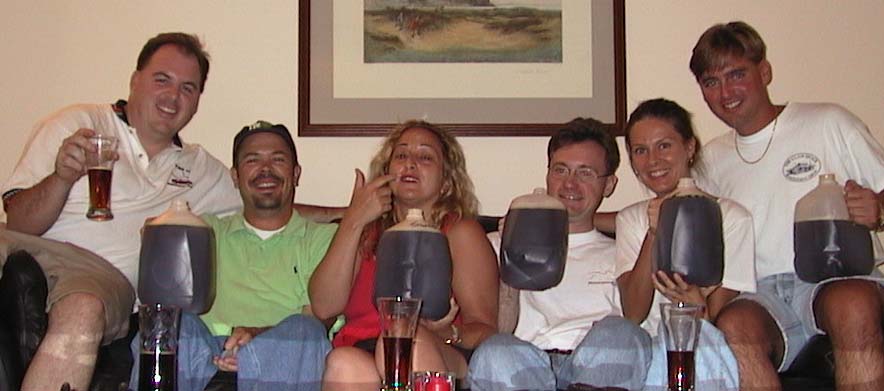 I had heard so much about these Texas and Tennessee people in Nashville and I really wanted to see it for myself and try and keep up with them, if only to carry the standard for New York, and I did my best but these folks are hardier than me and I wussed about midnight.
When I got back to the room I filled up the sink with ice, placed the food and water and grapes and cottage cheese in it, sat down on the bed and noticed the fridge. So.... I had a sink full of ice for no particular reason.