NY Auto Show 2003
See also:
Jon Trudel's story and pics
April 22 update from NY BMW CCA member Al Lee:
" I attended the auto show 2 days in a row, and had the good fortune to be able to attend the BMW preview as well. I went a little (a lot) camera crazy and thought I'd toss in my auto show pics as well (no stories though!)."
Day 1
Day 2
Enjoy! -Al
Thanks Al! Sorry I missed meeting you! Next time, OK? :)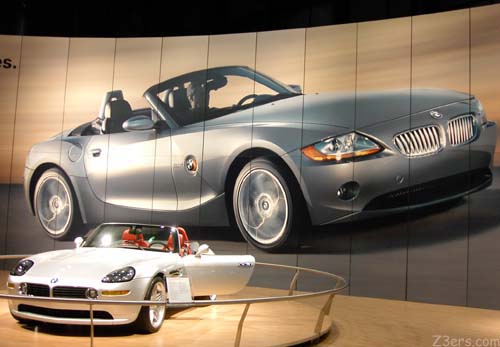 I think we get the reference!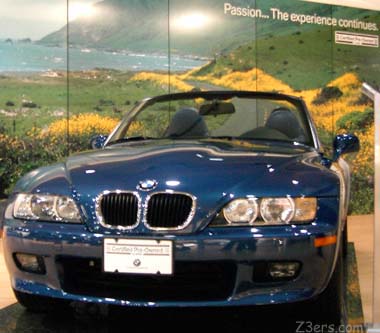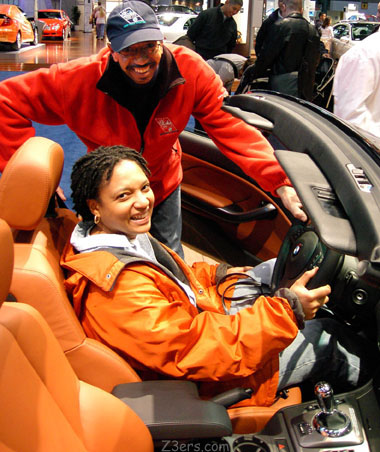 The little CPO Z3 stashed in a corner - at least was kept company by a wall mural of the curves she deserves... and Andre's wife made her best pitch for a new M3... Look Honey, it matches my jacket!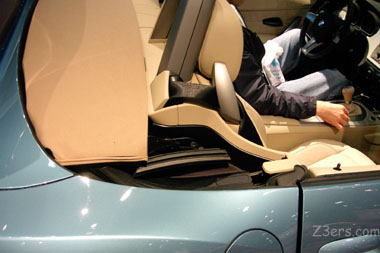 BMW Product Manager Hennie Chung revealed that this gap by the intergrated tonneau is bugging some Z4 owners so they are working on an "insert". She describes the Z4 as "Second Generation Premium Roadster".
Later it was revealed that the X5s will get a "facelift" in 2004.
(If the X5 gets a faces lift during it's model run, and the Z3 got new hips during it's model run... does that mean the Z3s got liposuction?)
Much talk about new Alacantra (spelling?) interiors... now where did I hear about that before hmmm?