Police for breakfast-
The next morning I was up wayyyy before my alarm at 615am, since it was 915am my time. I was totally psyched for the German Revolution. I headed out the parking lot early to get the car loaded before Earl arrived and found police prominent in the lot. Not unusual. Then I hear a familiar voice, "Hey Rachel, over here." The LAST place I looked was behind the police. Sure enough, there was Earl being written up by Los Angeles's finest. What? It's nearly 8am, what the heck could he possibly have done to warrant this very serious looking officer to be writing up a ticket? While the one continued his ticket-writing the other allowed me to chat with him, and ask what was going on.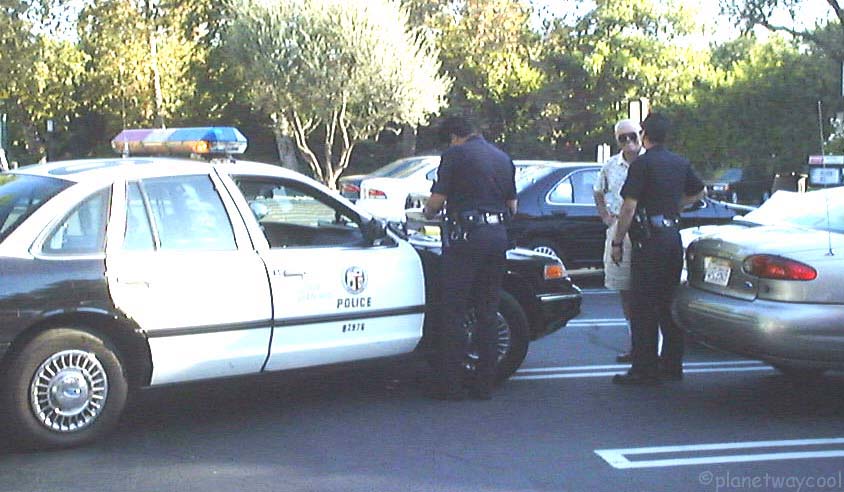 The smile that says, Rachel, you aren't going to post pics of this are you? :::snicker:::

Frankly the other officer seemed to be embarrassed by what was going on. Apparently Earl was making the left turn into the hotel parking lot in front of an oncoming truck which was followed by the police car. The truck slowed when Earl made his turn and the officer deemed Earl's turn to be "reckless". Right. I am sure that Earl, who was very early to pick me up would have cut in front of an oncoming truck for no particular reason, to race into the parking lot of the hotel. It was really awful and.... stupid.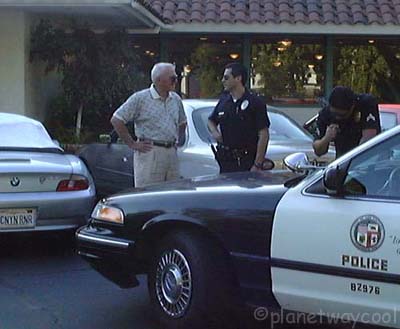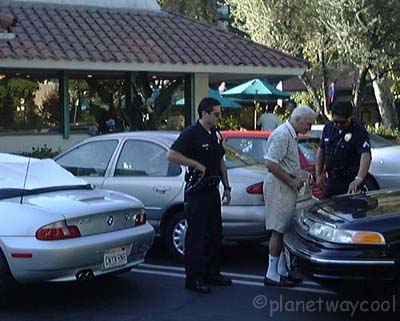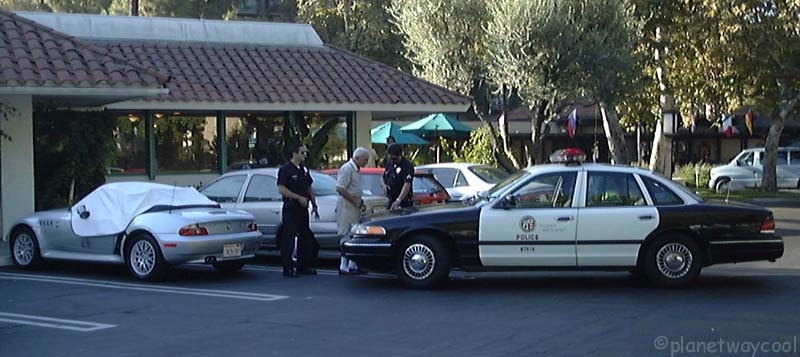 The other officer was amiable, and they both allowed me to take these pics but politely declined my request for them to pose frisking Earl or getting Earl to lie down on the pavement and the officers to pretend to be beating and kicking him.
Oh well. We had a bite of breakfast, Earl was an incredibly good sport, although his appetite was somewhat ruined by those events.