I liked how Robert BoxStarS set up the drive. 2 groups, one who was more into the roads
and one that was more into the scenery, maps for the first half, and if you get lost, too bad.
Second part of the drive was no maps.
I will be incorporating some of this into my next drives.

| | |
| --- | --- |
| Brad | Ilya |
This is Brad shooting the back of Ilya's AudiTT and Ilya shooting back at Brad in his AudiTT
And then we were off....


From Rick ///MFATIC's Page


These guys can't all be going the same place?
Or can they?

We were building our own traffic jam.
The locals cheered us on
with honking horns and waving hands...
or individual digits.
| | |
| --- | --- |
| | |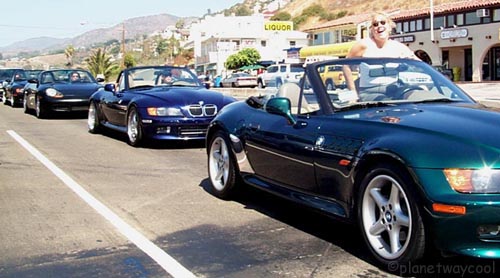 Esteves



We don't need no stinkin' maps- we're the German Roadster Rebellion Traveling Traffic Jam...