Boxster Sandwich, Yum Yum

After the driver's meeting I told Robert I really wanted to follow a Boxster, since I hadn't managed to all day and he said, "OK, follow me."

There was some chuckling and some doubters that I could keep up, especially in my stock rental Emmy twin. What the hell, all I can do is try....

It was a funny moment for me when I whipped out the camera to take the classic ride pic of the car in front of me and rearview mirror of the car behind me.... gleep.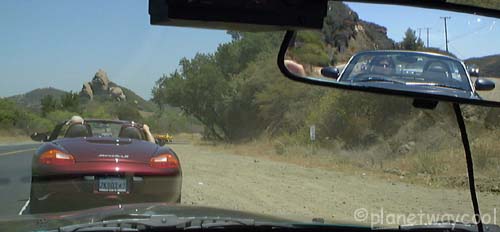 Another Richard Boxster driver was behind me donning his driving glove.. and I am thinking... uh oh....

I remember something Robert was saying earlier in the day about not wanting an AudiTT enema...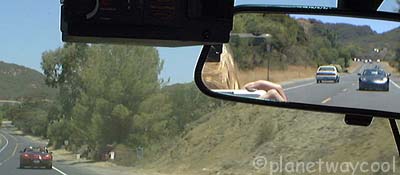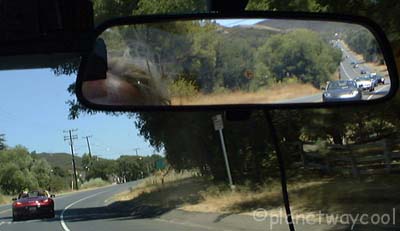 I am glad I got the pic but it gave me a late start following Robert, and that was pretty much the last I saw of him. (Yes, that is my excuse and I am sticking to it.) So there was Richard behind me, and happily not many behind him, and I was determined not to slow his ride, did my best to stay out in front and even got some distance occasionally- he was probably reading a book at those moments- but he always gave me some room, which I really appreciate. For the record, I hate being followed too closely- having been rear-ended 3 times in 3 cars already. What can I tell you, it was a damned sweet ride.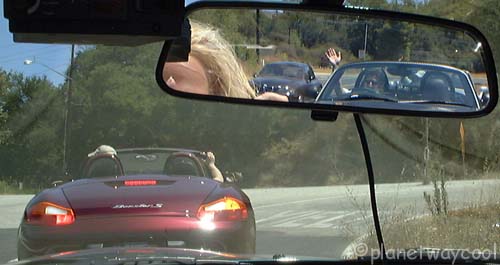 Richard waves buh-bye to those splitting at an intersection
It was an evil pleasure riding between the BoxStars.

If not for a slow truck in front of Robert, I never would have seen him again.