The night we rocked the CaZbah
October 20, 2001

I said there wouldn't be a web page, I lied :).
Zeegar's pics added Nov 1,2001

There were so many stars , on and off the stage, in our group and scheduled artists. 16 friends showed up for New York City and to get something for themselves- which is what New York City is there for and does best.

You want it? We got it.
Just no place to wash my car.

It should probably not surprise anyone that the cast of characters was the same as the group who are featured in the WTC Z3ers pages. The people who had a building fall on them. The WTC fell on our souls, and so a part of us stays buried along with 4500 strangers in the rubble we now call "Ground Zero".


On our little stage in the nosebleed seats:

WTC Z3ers:
Mick and Rita
Mario
RichNYC
Pat and Ann
Than (Dadofour, Z3Hatz)
JonT
Tom Young
Lisa PA

Zeegar driving in from North Carolina!!!!
Debra Hoffman- very special guest and new friend
Dean Lance- the other half of my soul
Marcia and Carlos
Rachel
If I tell you this was a life changing experience for me, I am not exaggerating.
It really started with David (Zeegar) leaving North Carolina Thursday night. We talked to him until his cell phone died, and he stopped for the night in dreaded Virginia.
He said it was 4 hours one day, and 4 hours the next. That should come in handy when I head down there for ThanksDragoning.
Lisa and I hunted down Than, and I poked RichNYC with an Instant Message. Most of us were too busy to even read the Z3 Rides email I marked "URGENT", inviting all comers to the show.
Oh right, the show.
Here is the invite:


Subj:	URGENT! :) Be My Guest at Concert for NY
Date:	01-10-18 10:27:48 EDT
I am sorry to ask so late, I have been kind of out of it as most of you know, in and out since the attack.

I realized this morning that I WOULD like to go to the concert for NY at Madison Square Garden 
Saturday- IF I could be with my friends.
Concert info:
http://www.robinhood.org/concert.html

I consider everyone on this list to be my friends.

So- especially to the WTC Z3ers, (JonT, TomY, Mick, RichNYC, Lisa, Mario-) but for everyone, I am 
inviting you to the Concert for NY on Saturday at Madison Square Garden, as my guest. (I'll buy the ticket- 
for singles, you gotta buy your date's ticket if you bring one)

My other world (other than Z3s, Frank Lloyd Wright and a couple other things) is ROCK AND ROLL. I 
have arranged with my Rock connections to buy a section for us-probably nosebleed seats, but we'll be 
TOGETHER and the show is going to actually be something you will remember the rest of your life- once in 
a lifetime.  We already have 20 tickets set aside.

It's my way of having a blast with my local friends- people who survived the attack and still are surviving the 
aftermath- and to encourage and say THANK YOU to anyone who will come visit THE GREATEST CITY 
IN THE WORLD!

David Bowie is opening with "Heroes" 

Let's go.

Email me- rock@z3ers.com  SUBJECT LINE: ROCK AND ROLL
with your phone number just in case
RIGHT AWAY!!!!! and let me know you can make it so i get enough tickets

P.S. the show benefits the Robin Hood Foundation- www.robinhood.org
Robin Hood will work to ensure that the needs of poor and lower-income victims of the World Trade Center 
attack are met in both the immediate and long term, including the families of  those missing or injured, the 
heroic firefighters and police officers, and all others  impacted by the economic consequences of this tragedy 
and its aftermath.     Because Robin Hood's board of directors underwrites all administrative costs,  100% of 
the money raised will go directly to the most effective organizations aiding  victims and their families.

Congress may be afraid to peform in Washington- but Rock Stars ain't afriad!  

Let's go- it's time to Rock N Roll!


P.P.S. Not only is there a special hotel rate for out of town folks provided by the Robin Hood Foundation, I 
know where the stars are staying... heh heh heh

Here is the hotel info from this site, for those who are not crashing on my couch:
Now is the time to come to New York! If you're out-of-town and want to attend this historic concert, you 
can stay at New York's landmark Plaza Hotel for a special concert rate of $199 per night on either October 
19th or October 20th. Mention this special offer when making your reservation and show your tickets at 
check-in.

GUESS WHICH BANDS ARE STAYING AT THE PLAZA!!!!!!!
One small part of me was worried about inviting people to New York City.
What if?
It's a lot like drving the Dragon or other adventures in the Z3.
I drove through West Virginia and Kentucky by myself.
People die in traffic accidents- what kind of idiot would purposely drive further than necessary, just to party in South Carolina?
But we do it because it's FUN and it's life and its a challenge and if we didn't try new things, if we don't see America, if we don't meet new people, then life is like- death.
I ain't dying before I die.
Oh yeah, that is why I live here in NYC where life is rich with experiences and beauty and culture and DIVERSITY.
It doesn't matter where you live or who you are, if you stand out in a crowd, someone will try to shoot you down. So aspire to mediocrity if that is living for you, I'll be here in the cultural center of the world, along with all the other aspirers. I'll be having my food delivered, my car parked and marked up my garage attendants, I'll be arguing on the streets with strangers, espousing my views, cursing like a sailor and laughing as hard and as much as I can. Good luck to you who stay home, and good luck to me and mine who keep going out.
I am getting ahead of myself.
The point is, I am going to this damn concert with my friends.
First I had to pick up the tickets. It took me forever to get uptown and I was in danger of getting there too late. I parked illegally in front of a traffic cop. One of those guys who stands around handing out leaflets for a strip joint greeted me with a sly look. "Esmerelda, hmmm?" he said. Yes, I said, smiling but heading without pause to the ticket office. I heard a voice behind me shouting "Young Lady! Young Lady!" I figured:
a) I ain't no young lady
b) This is my only shot to get these damn tickets. If the car gets towed, I will deal with that.
I kept walking, darted into the building. Got the tickets and returned to find not only was my car still there, but also the strip joint guy told me it was like a miracle. The cops had come to give me a ticket- but didn't. It was the strip joint guy who was calling after to me to warn me. He said he didn't know why they didn't ticket me, but they just left and were coming back. So.... I got the heck out of there!
I sat in traffic along with the rest of New York heading to Jersey out the Holland Tunnel. The Lincoln Tunnel was reporting a big back up.

I picked up Dave at his parents' house in Yardley. Thanks again to Traffic Pro for getting me through the maze of I95, 195,295, Oxford Valley Road, Oxford Valley Mall, Route 1 yada yada yada what a pita. It got me within a block of their house, in a new development not yet mapped. On the cell phone Dave's Dad talked me down into their driveway like a scene from "Airplane".
Flaps up, air brakes on and into their very charming home.
I made sure to "save position" for his parents' place in my Traffic Pro.
While learning about David's mom's faux painting technique and Klempt, Rodin and her prize winning Frank Lloyd Wright inspired design, David's Dad mentioned a friend who had been in the WTC and survived.
Sometimes I think that people outside the city don't understand, then when I get to speak to them I an reminded that many people who do not even live in the city were a lot closer to people in the tragedy than I am.
So, getting out of the city is just as important as getting in to it.

Time to take their son into the war zone.
Dave's knees were troubling him so I did the driving. I could not wait to bring him like a trophy into the big city. See! Here is one of those people unafraid of my home town! Bravo! He drove for 2 days and took a day off work to come and see the show. Yes, that is what Americans do. And Bravissimo to the artists who put on the show. They were so obviously looking for a way to pitch in, to help, to save the city and the country.
Look, there really is no way to secure Madison Square Garden, or the bridges and tunnels, or the city, or even the country. That's a fact. There is no way to travel by Z3 and be totally sure that no one will hit your car or even that we in our Z3s wont hit someone else. All you can do is the best that you can to prepare and then live your life.
As we swung down exit 14C off the turnpike, David got an eyeful of the Statue of Liberty,


of the gorgeous city skyline. Because I had David as passenger I got two benefits:
1) I could enter the city via the Holland Tunnel. There is now a 24/7 restriction on cars entering Manhattan via the Holland, must have at least two people in the car. Thanks Dave!
2) My Supersprint sounds utterly awesome.

I think the added weight is what made the Supersprint sound so good. I dunno. Additional to the US Flags now hanging over the Holland Tunnel is a broad black band of mourning.
So now it's about 1 or 2am, I can't really remember and we tried to go down the West Side Highway towards Ground Zero but it was pretty much blocked off. We headed uptown to see the sights.
Lord, may I never tire of the thrill of riding through Times Square top down at 2am.
through

Again we were blessed with fabulous weather. This is the BEST time of year to be here. Well on the other hand there is December with all the holiday lights and windows and shopping.... And there is spring and summer... well anyway... So we were top down in the wee hours on Times Square feeling like kids in a the biggest candy store. All David was missing was the hookers. (Don't worry, once Guiliani leaves they will be back with the peep shows.... ;D)
I should have turned down 42nd street to take in all the famous playhouses- oh well, next time.
At this time of night, the city streets are nearly empty, so we took advantage of it. We rode up to Grand Central station,


around it's curvy tunnel and up Park Avenue and it's gleaming skyscrapers. Over to Central Park South, the Plaza hotel glitzed to the max- eveyrone has seen that hotel from Crocodile Dundee to Madeline. Across the street from

and down 5th Avenue. At one point I got turned around and was going the wrong way up 5th Avenue! For ONCE it was the taxi cabs looking at me with faces of shock. Oops.
We got back to my little house down Irving Place- a street that is only 4 blocks long where the buildings are low- with the Con Ed building


lit up beside my building's 4 towers. La la la.


I was so proud.
Proud of my building, proud of my friend who drove up from North Carolina. Introducing him to everyone I saw. See? See? They are coming back- there are people coming to New York!
So we yakked until some absurd time and fell asleep midsentence.
Saturday I could have lied around the house all day but with too much to see and do and friends coming in.
Dave and I headed out to Ground Zero.
This was very good for me because so many people have been thinking that I am still holed up in my apartment wringing my hands and weeping. When you head to Ground Zero, you get to run the gamut of feelings. In one way you feel like some kind of garbage for going to visit the site as a tourist. You promise yourself to be respectful, adopt the attitude you take when you have to look a cut you have given yourself. You don't want to look but you have to see what is going on to your body if you want to be able to treat it right and survive.
And so you go.
It's never what you expect. We common folk are kept considerably back, and just as you are thinking you can't see anything, something pops up and takes your breath away.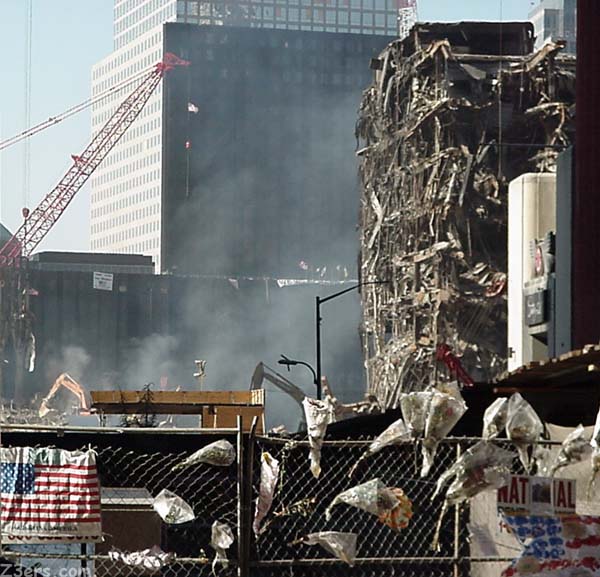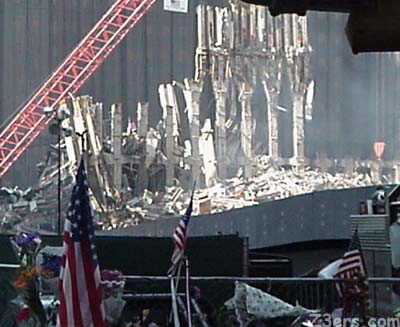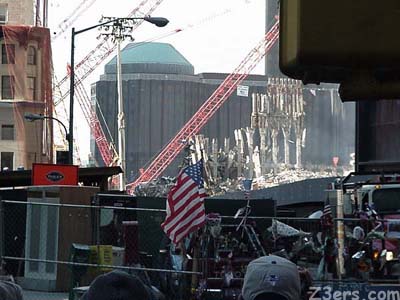 You struggle for a good position to take a photo- feeling nearly guilty as you do,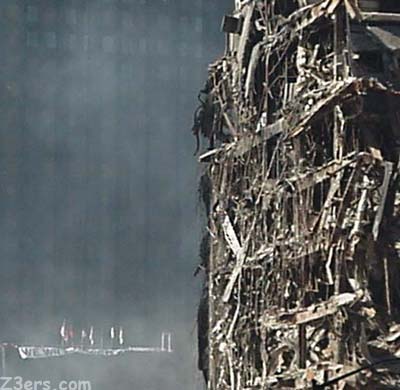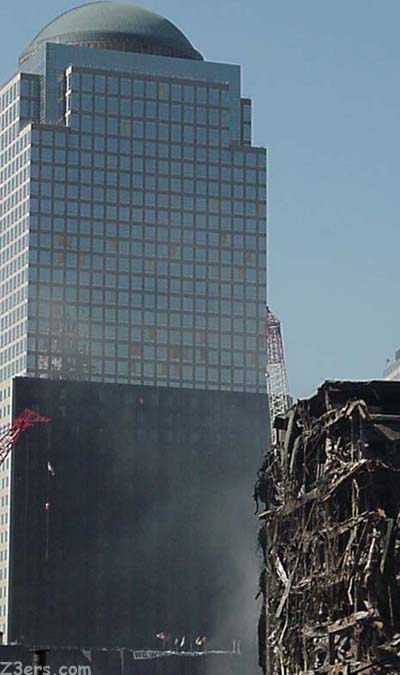 hear someone yelling at you because you have leaned too far over the barrier, or stood on a planter to get the shot, and then you feel guilty for giving the officer who is watching everyone more work to do.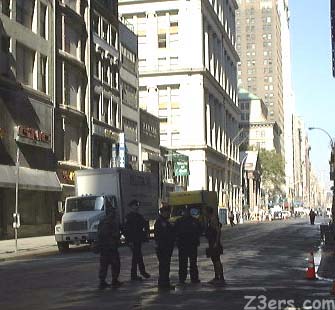 Little things blow your mind.
Watching a shop keeper hosing down his sidewalk- then realizing what he is washing off is 4 inches of dust from the attack.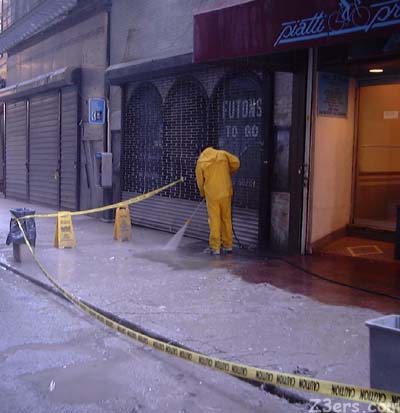 And that dust contains the last remains of 4500 people, their papers, their clothes, their personal momentos, their skin and bones and blood.
Even over a month later, there are shops shuttered next to shops proclaiming their open- ness. Come shop here, please.
We asked someone to point us toward Tribeca. Tribeca was home to JFK Jr and still is the chic places that people like DeNiro call home, full of exclusive and overpriced stores and restaurants that are so cool they have unlisted phone numbers. These same places today welcome in strangers and discount (DISCOUNT?????) goods by at least 20%.
Now is the time to come to New York City- we are giving away the best stuff and we'll thank you for coming to take it.
I heard David say- "OK, let's get out of here and have some fun."
It was the same voice that we have had here for a month. Like, OK, we have paid out respect and done what needs to be done, and the next moment I would like to have some life, please. The difference is that instead of saying that now that we've seen it we want to forget it- we say, we see it, we live with it and we will continue to live with it and work on it- we'll never turn away from it, we will incorporate it into our lives, not let it ruin our lives.
Paraphrasing JFK, David Bin ein New Yorker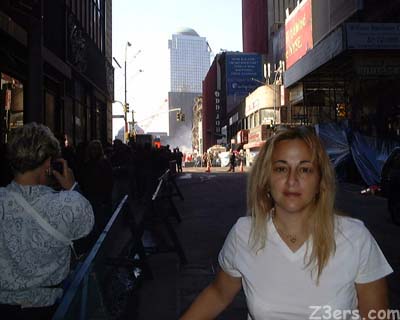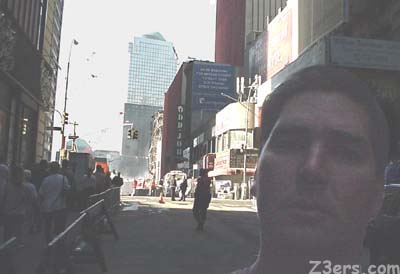 As we headed east we saw many kinds of emergency service vehicles. It gets to be kind of game to figure out what each vehicle is for. There was one provided by Verizon, allowing 3 minute phone calls anywhere- for free.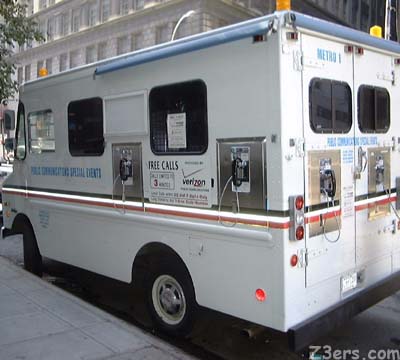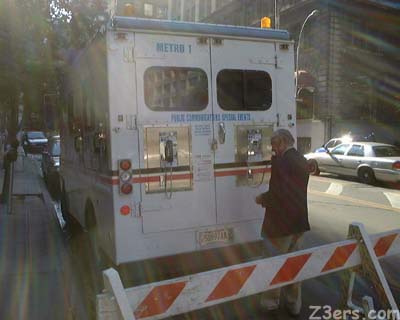 It sounds like a good deal until you meet the folks who are using them who still have no phone service.
OK so we couldn't find Tribeca and our feet were getting tired. We had not really walked very far at all- just a few blocks east to the Brooklyn Bridge.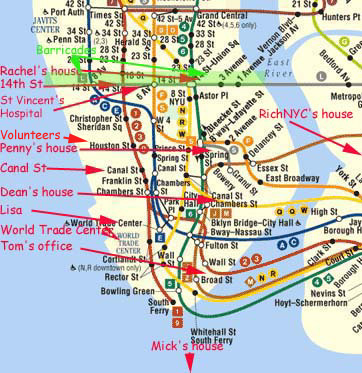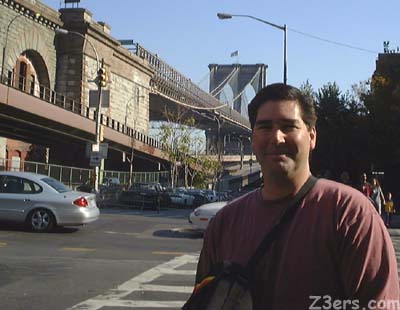 I could not help but think of all those people walking from the same place on September 11. No public transportation available to them, no cars allowed, covered with that same people dust, smelling that smell on such a fine September day.
Lucky us, this is New York, and a bus station popped up in our path.
Bus showed up within minutes and took us back to 15th St. We made friends on the bus, joking about the concert.
Back at home, Lisa had arrived and already started to prepare for our guests. She brought along 2 fine bottles of Vodka and I forget what else. I just wanted a bath and to get ready so I left her in charge.
Guests started to arrive, I went to bathe. By the time I came out, the Japanese restuarant delivered the sushi plates exactly on time, and some of the guys had gone out on a beer run. As usual I counted on these people to take care of themselves and me too.
First to arrive, David, Lisa and Than on my "back porch"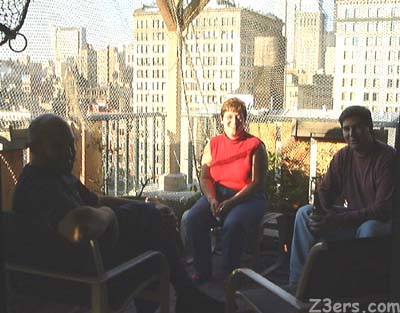 I never had so many people over my house.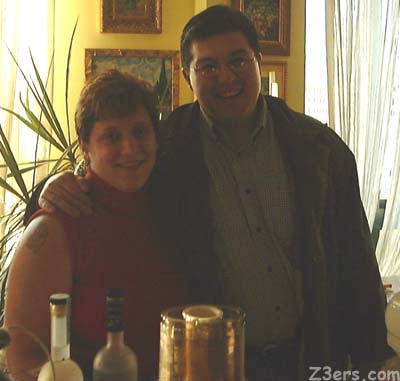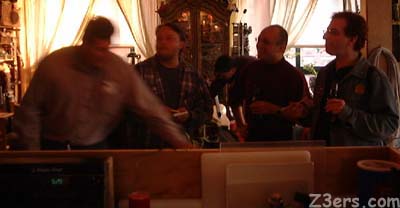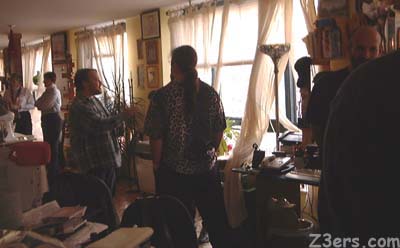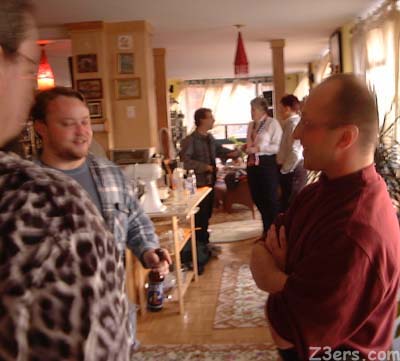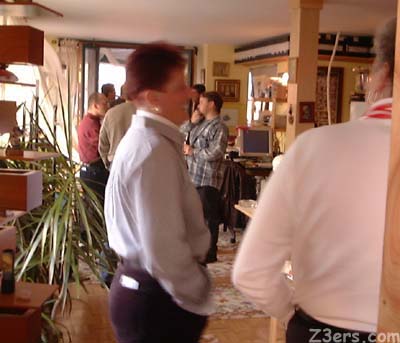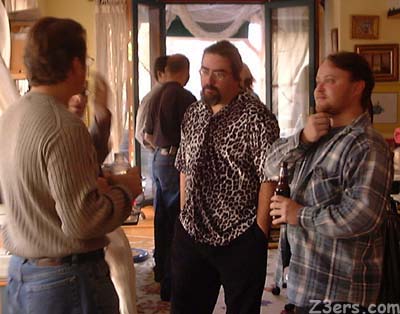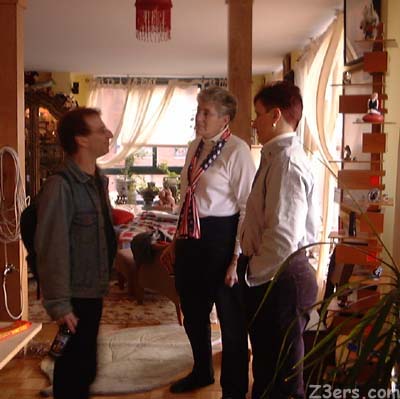 I have been under construction since the first Fixit Day and feeling like I live in a glorified garage. I did not expect these people to make me feel more comfortable in my own home! Oh they loved everything- sitting on the balcony under the Empire State Building,


watching the smoke from the display above Virgin Records, yakking about everything under the sun. It was pretty mind blowing to see all these faces I know from Homecoming or Fixit Day or Z3 Rides with my friends like Dean who don't even like to ride in cars! After a while I had to crack up- no one was even talking about Z3s! Here's a first- a Z3 drive without their cars! Nice opportunity for my non-Z3 friends to meet my Z3 friends.
We were having such a good time it was almost hard to leave for the concert.
We were going to walk to Madison Square Garden, but I decided to wear 3 inch stilettos (Dave said they looked much better, and besides I am a Rock and Roll chick at heart). Then we were going to pile into Marcia and Carlos' van but there was really no way to get 16 people in there.
So, we decided to take the subway.
"OK everyone pick a New Yorker to take them on the subway!"
Kind of funny saying that- reflecting on it now because Lisa is a "New Yorker" even though she lives in Allentown. She knows the subways because she works here. Some folks had never even considered taking a subway in New York City. Another first, Z3 ride on the subway. What a freakout, to be fill up a subway car with my friends. La la la...
Yakitytakitayakita EVERYBODY OUT!
And one block later here we are. Penn Station, Madison Square Garden and the excitement building as we become a part of the crowd waiting for security to search our bags. Man, I was already having so much fun. What a riot to have a big group of friends storming up the escalators at MSG. Mixing in with uniformed police and firefighters. In those same 3 inch stilettos I ran through LA airport not so long ago.
I had warned everyone that we were going to be sitting in the cheap seats, the nosebleed seats. For a moment I was sorry because we were seated in the very most back row. Once again my friends blew my mind. RichNYC looked at me and said, "We have the BEST seats! We are right in front of the food and the beer, near the bathrooms, easy to get in and out and we have a great view!"
I never had such good friends.
He was right- and not only that, we could also stand up and stretch our legs and dance behind the railing, and no one kicking us from the back. The truth is also that there is no bad seats in MSG. Although we were the furthest row, we were almost right beside the stage, so we could see into the backstage area, and we were closer to the stage than people who had lower seats because they were further away. There were large screens for close up and Debra had brought binoculars. We had it all.
Just after we settled in, David Bowie took the stage. Just Bowie and a small keyboard, laying down a completely sweet and perfect rendition of Simon and Garfunkle's "America". From there he launched into "Heroes". I forget the order, but lets say he was followed by Guiliani, or Tom Dashle, or Meg Ryan or Billy Crystal, because that is how it was. One incredible musical act by a phenomenal star, singing their heart out and wishing us well, followed seamlessly by a famous politician or movie star or comic, and usually bringing up a fireman, policeman or family member, telling a little of their story- and I mean VERY LITTLE- and all of us praying that something we could do would bring even a tiny smile to say, a kid whose father lost their life saving people during the attack.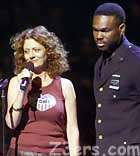 They gave us words- like "lost their life". This is the best way to say it. Their life was literally "lost" somewhere in the rubble of Ground Zero. They didn't give it up, they didn't die per se- their lives were lost. We are lost without them. I definitely did feel their presence there that night, partying with us in Madison Sqare Garden. And so it was, with 5000 or so firemen and women, policemen and women, EMT and Ironworkers and their families, all spread out on the floor of the garden almost like an extension of the stage, all carrying photos of loved ones and raising them above their heads while they were rocking out and dancing, yes dancing and screaming for more.
It became a theme of throwing their caps up on the stage for the celebrities to put them on. And so they did.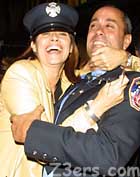 Caps had a hard time staying on heads as the performers shaked rattled and rolled. Jon Bon Jovi singing wearing a cop's hat, Melissa Etheridge rocking wearing a firefighter's hat. The Mixer was the most huge I had ever seen, taking up the middle of the Garden like a wide black tongue. Those poor sound techinicians trying to keep up with what was going on on stage. Melissa Etheridge had no voice mike for a couple verses so she just played the shit out of her guitar and we all went wild and sang for her.
Every movie director, Scorcese, Woody Allen, Spike Lee and more made short movies that were played. Adam Sandler did an Operaman that had us laughing so hard I dropped my first beer. I danced so much I lost another beer as well. I resolved not to let a beer out of my hands, which made it harder for me to clap my hands, so I just kept screaming. Lisa had a splint on one hand but kept clapping anyway, she'll have one black and blue hand tomorrow.
Bill Clinton spoke, Hillary spoke, Billy Crystal spoke his mind- "...ever see Musicians running AWAY from white powder?"
The Goo Goo dolls turned me on, Five for Fighting played at the request of a firefighter. As the uniformed folks started to let their hear down they took the stage and the microphone with increasing confidence, making cracks and standing behind the presenters like Chevy Chase making funny faces. Micheal J Fox came out and Selma Hayek, and Stev Buscemi, who has gone back to firefighting without any fanfare or publicity.
The rock stars would usually speak their minds as well, through their music and their choice of songs, with John Cusack standing among the officers in their rows dancing, and Mick spoke for all of us when he said, "YOU DON'T FUCK WITH NEW YORK!".
This, by the way was also very helpful as plenty of the stars and certainly the short films made the point that we New Yorkers like to curse. I am out of the closet now, as much as I try not to curse, I try to use my vocabulary, but damn it, I am a New Yorker and we are quite free with the expletives. Fuck it if they can't take a joke. I know my row was all rooting for Bill Clinton to say "Fuck YOU Bin Laden."
The fireman said it best though, all agree, when he took the mike and said that Bin Laden can kiss his "Royal Irish Ass" and that he comes from Rockaway Queens - at which point Tom Young and the rest of those rowdies from Rockaway let loose a yell that let everyone remember that Noo Yawkers have the loudest voices on earth. Then that same fireman, Micheal Moran, who lost his brother, a fire chief, on Sep 11 took his hat off and said, "this is my face" to Bin Laden and added after a perfectly timed pause, "Bitch".
I was really expecting him to moon Bin Laden.
By the time the Who took the stage we were already blown away, and they rocked us further. I swear I felt Madison Square Garden actually rocking. Damn right Keith Richards showed up to sing with Mick Jagger, and Billy Joel, who brough the house down on his own,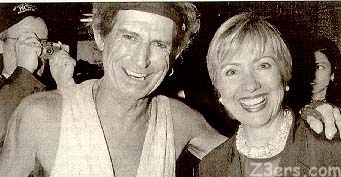 and Elton John, who rocked us as only he can, teaming up on dual pianos was a beauty of a kind I have never seen. Even seeing the US Flag flanked by the Union Jack over the Who brought tears of joy to my eyes.
Leonardo Di Caprio practically apologizing for not being a New Yorker, standing with Robert DeNiro.
When the Who played it was glaringly apparent that this is NOT Vietnam. Kids, it's no longer cool to be anti war. We have to get this sonovabitch and all the terrorists and kill them dead. Period. Richard Gere was out of step. He don't get it- it's not that we don't want peace- we do. We want our peace BACK and in order to get it we have to fight for it.
Rap stars like JayZ are getting the point. A little while ago he was being arrested by the same NY Police force for whom he was now singing. Thank goodness for JayZ, Destiny's Child and Macy Gray -otherwise I would never have had a chance to go to the bathroom. :::snicker:::
Pat and Ann bought me a t shirt and beer flowed until 10pm when it was cut off my MSG. Yes, as Dave noted, we have a lot of rules here. No smoking in public areas, no beer after 10 at the concert, and yes, we did see some poor schnook picking up his dog's doo wearing a baggie on his hand. Yes we do, because we are the most civilized place on earth. It didn't matter that there was no beer, because there was act after act of the best on earth without pause from 10pm to 1am. And so we rocked and danced and sang along with the stars and cried with those who lost loved ones and promised with our souls, we wont be fooled again.
They spoke of things in a way I could really hear, about how we can not be sure we are safe from harm, but we now are ready to fight. This time we are fighting back. From airline passengers who will, as Billy Crystal said, take you down if you even get up from your seat to take a pee- to the Senate going back to work despite the Anthrax threat, to the brave sons and daughters of Americans painting I <3 NY on the smart bombs they are dropping, to the food we are leaving for the starving multitudes in Afghanistan. We are fighting back, in your face and even though we really have seen the lights go out on Broadway- those lights are back on and we ain't going anywhere. This is my face Bin Laden- BITCH!.
Jim Carrey said something about what this city means- about FREEDOM and UNITY. Bill Clinton referred to our FREEDOM and our "interesting differences". Yes, yes, it's all so clear now. We New Yorkers, representing our country and it's ideals by our very diversity. We can have a mayor who wants to censor art, we can have artists who line up nude people on city streets, we can have Bernard Goetz shooting robbers, we can have the orthodox jews, we can have Cardinal Egan, the Chinese community, the Italian community and we can fight shout and disagree- and it DOES still make us ONE people. We have unity because we choose to live here together.
Howard Stern in performing in pants with his butt cheeks cut out. Oy I never saw such saggy puny white cheeks!

Then came Paul McCartney. His father a firefighter, his partner shot dead on a New York street by a psycho, his wife dead from breast cancer, his new wife missing part of her leg.
I flashed back on my life as I heard the Beatles when I was 4 years old on Ed Sullivan, and here they are marking my life again as we enter World War III.
When he sang "Yesterday" beginning solo on the piano, we all sat transfixed. Then he launched his new song for the cause and it was a real winner and summed it all up:
"We're talking about Freedom. Freeeeeeeedom. We will fight for the right to live in Freedom".
That's it.
We, as a country will FIGHT as one people for one thing:
The right to live in freedom.
I can't wait for that CD to come out.
This was some beauty of infinite proportions.
I feel sorry for the folks who only saw it on TV- because I heard about a lot of stuff you missed. You had to BE HERE. Come here. This place is great.
It was the Woodstock of our time.

And so we trundled and stumbled back to my apartment, by subway again. We goofed on the subway station and ended up walking a bit- which was great since the city was still warm and it was a perfect night for walking. But I was still wearing those stillettos and walking with my feet so numb with pain I could not feel them.
Back at home at 2am, some folks had to get going home, most hung out for a while basking in the afterglow of this infinite beauty.
So we were hungry and we wanted beer. No problem. I know a diner that will deliver- even at 2am, and again the guys went out to score beer. We sat under the Red White and Blue Empire State Building, let the smoke from Virgin Records puff away, talked until there wer just 5 of us left. Some off to rescue their Z3s from the parking lot (how did that go guys, all the cars AOK?) some off to visit friends who are working late late late in the city.
It was something like 5am when Lisa, Jon, Dave and I crashed, and Dean puttered off home to Chinatown.
9am came up and Lisa was dressed and out the door, grabbing a bus back to Allentown, leaving me with 2 fine bottles of Vodka. I think I will leave them on what has become the "Bar" for Lisa, as she is welcome here anytime. She has keys :)
It was hard to get motivated and easy to relax, but I shoved them out the door to see what I love most about living here. Dave only had a few hours left and there is so much to see and do.
We went down to the Lower East Side to have breakfast at 1pm at my favorite little Polish restaurant with the secret garden in the back. Pirgoies and Potato pancakes, meat dumplings and keilbasa with coffee- the real kind.
Next stop,

Since 1894 they have been making us fat and serving until midnight sublime coffee and pastry. We loaded up on cheesecakes and mini cannolis as souvenirs for Dave to take home (Dave, don't you open that box!!!!) I could not help but notice that just like the night before it was our city's diversity that makes it great. Polish breakfast, Italian desserts, Japanese sushi, Greek Diners, friends from North Carolina and New Jersey, and right next door.
The day was slipping us by, it was time to get in a good Z3 run while returning Dave to his parents. We got stuck in some traffic leaving by the Holland Tunnel again.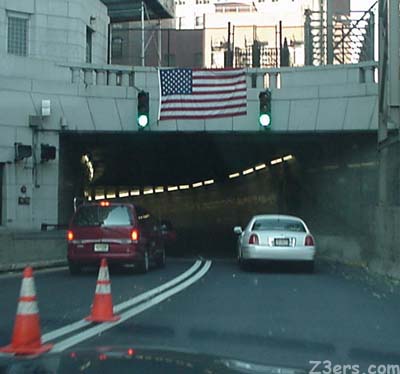 At one point we were stuck next to a Jaguar. I leaned out and said, "Have you any Grey Poupon?" and the guy in the Jaguar was laughing his ass off.
Some jerk in a Lexus tried to dog me on 78, so I ended up passing him at over 100 just to get away. It worked. By this time Dave was itching to drive and doing that typical guy-thing. The roadster girls know what I mean. Fiddling excessively with minutae while I am driving, telling me to watch out for trucks and stuff, I finally got where I could hand Emmy over to him. It's not his fault, it's the Y chromasome ;)
I was pleased as punch that he liked my car, since he has one of his own and he's also driven Nathan's 2.8 pretty extensively.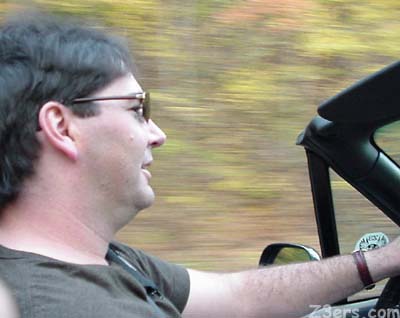 Fall GrinfluenZa, courtesy of Esmerelda

He liked how I had fitted out my car, which made me realize that my car really is "Fogged". I may not have a Fogg Box, but it's Shawn's advice that I follow mostly and he has worked extensively on my car. In fact everything about my car is made better by my friends- I can not thank everyone enough. My car really is great.
Another Y chromasome thing, when Dave leaned over in Frenchtown and asked for me to turn on Traffic Pro so we didn't have to struggle to find our way back to his parents' home.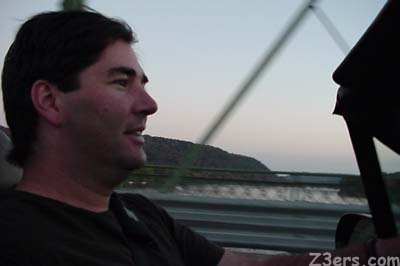 Crossing the familiar Frenchtown Bridge
Traffic Pro, saving men from asking directions all over the world ;D.
I got the best damn car, and it is fitted out the best way (for me) and with Traffic Pro, it's like a special secret agent supercar. Bond, James Bond.
I didn't want to say goodbye to Dave or his family, but it was dark and I had to get home. For the first time since the attack, I could not wait to get home. I felt that same excitement I have had for the last ten years about living in New York City. For the first time since September 11, I could not wait to see the skyline pop up over the road as I would get close. Home. All things are measured by their distance to New York City. That is not just me talking, you get on any major highway and even when you are 500 miles away, there will be signs telling you how far you are from New York City. New York City, happily representing the rest of the civilized world, the USA, and anyone who believes in UNITY and FREEDOM.
We were not happy to lose so many people. We won't be fooled again.
I set Traffic Pro for HOME and let it guide me through that 95 North to go South insanity again.
I called Jon as I usually do on my way home, and we resolved to meet for a bite to eat and maybe a movie. I changed my Traffic Pro to Jon's house, previously saved, and then to the diner. No problem.
A fine meal brought us back to earth, we realized there was no way we could make it to a movie, we were beat like an old rug. Happy, but beat.
Jon had successfully taped the show on VH1, and gave me the tape so I will make a copy... or two. Hopefully there will be a video and/or DVD of that show, since there is NO WAY they could have shown you what we saw that night on simulcast. Jon said from what he saw of the tape that the sound needed work.
I checked the radio for traffic conditions, found that the Lincoln Tunnel was clear as a bell, no problems. I can't go home through the Holland as a single occupant vehicle, and the GWB had a traffic back up. No matter, the Lincoln is my favorite way home anyway.
I headed back to the city via Traffic Pro.
It's kinda like a magic carpet ride.
At my house, I was amazed at how clean it was. 16 people here for almost 2 days and eating and drinking and like- you would never know. Dave forgot the big bag of bagels that Tom Young had bought for him from Ess-A-Bagel. (Tom is incredibly hip, Ess-A-Bagel is arguably the best NY Bagel store in NYC. I know it's arguable because entire treatises have been published arguing about which is the best bagelry in the city, and Ess-A-Bagel is always a contender. Of course we have to add this to the diversity, where else does a nice Irish boy bring bagels to a Jew from the South, hmmm?)
Poor David is going to have to eat the $200 he shelled out for his room at the Plaza that he did not even see.
Well hell, after we shoved those enormous cheescake boxes in Emmy's trunk, I rode sidesaddle on Dave's bags in the passenger seat and I hate to tell ya where we would have had to stick the bagels to get them home. ;D
I am significantly changed. I now feel this way about the situation:
They may pull off another attack here in the city. We'll do our best not to let it happen, and if it happens, we will do our best to save lives. Meanwhile, I am living my life and enjoying it and my city and my friends as much as possible, and praying that our armed forces pound the shit out of the terrorists with the least possible loss of human life. ( I do not count the terrorists as humans, sorry Richard Gere.)
I will continue to curse and talk fast and do all things a New Yorker does.
If they attack somewhere else, you can bet New York will be there to help.
I am proud as hell to be a New Yorker, and prouder still of my friends if that is possible.
I can't tell you what it meant to see those firefighters and public servants laughing and dancing and standing on chairs and leaping onto the stage holding pics of those they lost clutched in one hand.
Oh yeah, and I still can't feel my feet. Oy, my feet are killin me. ;D
And before I forget- yeah, please send money. It's one way of telling Bin Laden to fuck off. Let everyone who lost someone from the attack never want for anything. Or you can do like Operaman suggested, go lay a fireman.
Late breaking news, it's 430pm and David has made it home to North Carolina. More pics coming and more stories from our hearty little band about their New York experiences, please see Caranostra.org Message Board for updates.
Hey, David killed time driving home trying to remember all the songs in order- how about it Rockers? Think if we tried we could reconstruct the set list?
Here are some of the articles you can enjoy about the event:
BENEFIT ROCKS & ROLLS IN DOUGH
FIREMAN NAILS OSAMA 'BUTT' GOOD
Cindy Adams "Patriotism runs high at MSG gala"
VH1 Message Board