FDNY Marines - Ruben Correa Engine 74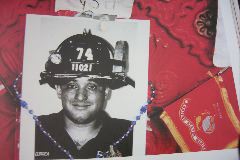 Photo credit Here is New York

When I took this photo from the book, I thought it would show solidarity between the FDNY and the Marines. I had no idea that this was already obvious to everyone in the FDNY and the Marines.

My first clue was coincidentally the front page of the Official FDNY page on NYC.gov:

On Thursday, July 1, 2004, Fire Commissioner Nicholas Scoppetta presented Lance Corporal Ian Lennon with a check on behalf of the members of the FDNY. Read the Press Release.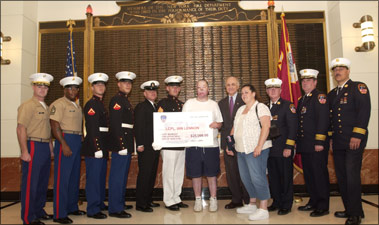 The official Marines page listed all of the FDNY firefighters we lost on 9/11 that happen to also be Marines. (You will see that more of the first responders were Marines too, as well as Brooklyn's famous son Harvey Keitel.) The full article is below, with great pics.
The former Marines of Fire Department of New York:
Firefighter Calixto Anaya, Jr. FDNY
Captain Patrick J. Brown, FDNY
Firefighter John G. Chipura, FDNY
Firefighter Ruben D. Correa, FDNY
Deputy Chief Raymond M. Downey, FDNY
Captain Michael A. Esposito, FDNY
Firefighter Matthew D. Garvey, FDNY
Firefighter Gary P. Geidel, FDNY
Battalion Chief Joseph Grzelak, FDNY
Firefighter Ronnie L. Henderson, FDNY
Firefighter William E. Krukowski, FDNY
Firefighter Manuel Mojica, FDNY
Firefighter Christian Regenhard, FDNY
Firefighter Gregory Sikorsky, FDNY
Firefighter Kevin Smith, FDNY
Firefighter Sean Tallon, FDNY
Firefighter Allan Tarasiewicz, FDNY
I found Ruben again on the Unofficial Home Page of the FDNY, where all 343 FDNY firefighters lost on 9-11 are listed with their department photos.

We are you. You are the best of us.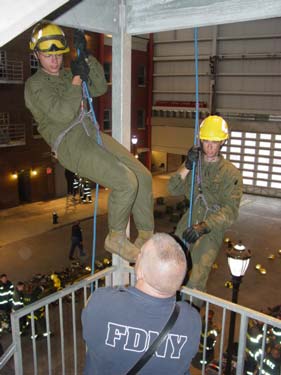 Marines train at FDNY Academy, Joint Task Force Civil Support
Another Marine from the 9-11 list, Sean Tallon of Ladder 10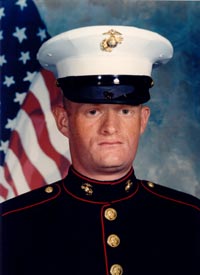 FDNY and U.S. Marine Corps visit the NYSE
Nicholas Scoppetta, NYFD Commissioner, and Colonel David E. Smith, USMC, visit the NYSE and ring The Opening BellSM.
07/03/2003
Please note: the Unofficial Home Page of the FDNY is supporting an effort to find all former Marines in the FDNY.

Brotherhoods Unite to Honor Memory and Families of Fallen Heroes
SSgt. Amanda Rose Hay
1st Marine Corps District

See full story with photos

MARINE CORPS RECRUITING STATION NEW YORK(January 15, 2004) -- The Marines of Recruiting Station New York recently unveiled a "Wall of Heroes" honoring the 23 former Marines who made the ultimate sacrifice Sept. 11, 2001 as firemen, policemen and federal agents attempting to save lives at the World Trade Center.


More than 200 firefighters of the Fire Department of New York, police from the Port Authority and New York Police Departments and federal agents gathered to pay respect to the fallen heroes and to reassure their loved ones that their loss, brotherhood and sacrifice are not forgotten.


Major J. J. Dill, the RS commanding officer, welcomed the families and said, "We would rather have them here with us than to be part of this memorial, but on Sept. 11, 2001 evil struck our Nation. Evil struck us because we are Americans. As we know, they failed in their goals and instead of dividing our Nation with fear, they unified it with resolve and a new sense of patriotism. Instead of keeping their people enslaved, they gave us the moral clarity and strength to free 55 million people in less than two years. Instead of creating their martyrs, they created our heroes. Heroes like the 23 Marines we honor and remember today."


The memorial is a permanent addition to the RS headquarters. The 23 portraits that cover one wall of the triptych will be a lasting tribute to these men and will serve as a reminder to all who pass through the facility that the Marine Corps will never forget them. Along one wall is a display case filled with items retrieved from the Ground Zero site and photos that capture the tragedy and human element of the day.


Although the three-wall exhibit in no small measure captures the spirit of these men, it provided a sense of comfort to some of the families attending its dedication.


Sally Regenhard, the mother of 28-year old Firefighter Christian Regenhard, who was on the job less than a year, said she was very impressed by the "Wall of Heroes." "It made me feel good that the pictures were used and that so much care, concern and excellence was evident in the arrangement and the presentation. These pictures are a way to teach people (of the human loss), in a glance, which is a more effective way than just reading a name and date of birth or death. I got comfort knowing these Marines will not be forgotten, at least by this station, and hopefully for those who come to see it."


Dill came up with the idea for the memorial shortly after presenting a flag flown over Afghanistan to the family of Firefighter John G. Chipura, a former Marine.


While preparing for the speech, he was inspired by the nobility and selflessness of men such as Chipura. His idea for the memorial was reinforced as he looked into the teary eyes of Chipura's family members.


"Seeing it on the television and then to deal with actual families takes the impact and the meaning of the tragedy to a whole other level," Dill said. "I wanted to create something meaningful and personal to pay tribute to these men and convey what I learned that day; how 9/11 affects people and affects us as Marines."


John Chipura's sister, Nancy, was at her desk on the 69th floor of 1 World Trade Center when the first plane hit. Attending the unveiling ceremony, she said is painful for her; it's similar to having to bury her brother again. She wanted to honor him and all those who were killed. One of her motivations is her brother's memory and all he stood for.

In spite of all the pain from losing a brother, events like this offer a sense of healing, she said. "Tears are usually shed during the ceremony, but they are tears of love and remembrance. Memories of better days. When I leave the ceremony and say goodbye to those who worked so long and hard to honor 'our hero,' I realize that my life was touched by love."


"Everything changed on 9/11 for everyone. You need to express your feelings and you need to heal. These ceremonies help you to do something. And as much as you may think it was a small thing, it really is a huge thing. And your actions and need to help has a rippling effect and continues to touch people, long after the ceremony is over."


Regenhard echoed Chipura's sentiment saying it was important for her attend this ceremony because it was done by the Marine Corps. "I feel a great attachment to the United States Marine Corps. I felt that the people coordinating it were 100 percent dedicated and sincere, and truly wanted to honor the fallen 23. These ceremonies are no more painful than it is for me every day, when I think of what happened to my beautiful, innocent son on 9/11, and the 23 good Marines and the rest of the 3,000."


As the headquarters for the RS, which covers New York City and Long Island, more than 1,000 young men and women annually pass through its doors before heading to Parris Island, S.C. to earn the title Marine. This memorial will serve as a symbol of the brotherhood they are joining and put faces and names with the legacy they must uphold.


Monsignor John Delendick, FDNY Chaplain, said, "Let those who enter this room read these names and let them take inspiration from them, that they too will be people of courage, bravery, commitment and dedication to this Country and to people throughout the world who need their assistance."


As for the Marines who are currently assigned here, Dill said it's a reminder of our role as Marines and to continue to find the best and brightest in our communities in order to win this global war on terrorism.


One of the guest speakers for the ceremony, Chief Salvatore Cassano, FDNY's Chief of Operations, articulated the purpose of both the Marine Corps and the FDNY. "Although we fight on two different fronts, we ultimately have the same mission. We put our lives on the line every day to save others … two organizations that require the loyalty, dedication and brotherhood that are so strong that men and women are willing to give their lives and face extreme danger so others may live in freedom."


The common feeling among the families was that the memorial was different from others because it was put together by Marines. Regenhard said, "It was so 'squared away.' It was very personal, intimate and genuine respect for the families was very evident."


"Each memorial we attend is different," Chipura added. "This being small, more intimate, makes it possible for us to interact with those who planned it. Semper Fi means so much more after meeting everyone. Your dedication is incredible."


"We don't do this only because we want to," Sgt. Maj. Fenton Reese, the RS Sergeant Major, said "We do this because we are supposed to … we're Marines."

Editors note:
The following is the list of our fallen heroes:

The former Marines of Fire Department of New York:
Firefighter Calixto Anaya, Jr. FDNY
Captain Patrick J. Brown, FDNY
Firefighter John G. Chipura, FDNY
Firefighter Ruben D. Correa, FDNY
Deputy Chief Raymond M. Downey, FDNY
Captain Michael A. Esposito, FDNY
Firefighter Matthew D. Garvey, FDNY
Firefighter Gary P. Geidel, FDNY
Battalion Chief Joseph Grzelak, FDNY
Firefighter Ronnie L. Henderson, FDNY
Firefighter William E. Krukowski, FDNY
Firefighter Manuel Mojica, FDNY
Firefighter Christian Regenhard, FDNY
Firefighter Gregory Sikorsky, FDNY
Firefighter Kevin Smith, FDNY
Firefighter Sean Tallon, FDNY
Firefighter Allan Tarasiewicz, FDNY

The former Marines of New York City Police Department:
Sergeant John Coughlin, NYPD
Sergeant Michael Curtin, NYPD
Police Officer Vincent Danz, NYPD

The former Marines of the Port Authority Police Department:
Police Officer Paul Jurgens, PAPD
Police Officer James Parham, PAPD

The former Marines of the Federal Bureau of Investigations:
Special Agent Leonard Hatton, FBI