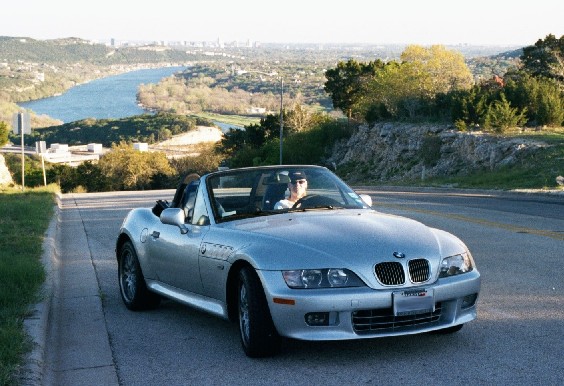 Sonia in her Z3 with Austin in the background
Sonia writes:

I have been around cars my entire life. My grandfather and great unclessold Fords. My dad has his own body and paint shop. I am an electricalengineer who designs automotive microcontrollers. My husband lovescars, and we go to the Indy 500 and a CART series race every year. Thisexplains one reason that I love the Z3 so much.
I decided to replace my reliable '96 Honda Civic over a year ago. Iwanted something with power, something fun, but it had to be a dailydriver for me. I also wanted more of a high end car than the Civic was(which isn't saying much). I looked at several cars, but finallydecided that I liked the Boxster. I had always wanted a Porsche andjust loved the way it looked. For comparison, I looked into the HondaS2000 and the BMW Z3.
We went to the Honda dealers to find out about the S2000. They saidthat we could get a 2001 model; we laughed and went to the BMW dealer. I liked the Z3 very much, but I still wanted the Boxster. So, we wentand drove it. That was the most uncomfortable ride I have ever had. The interior was kind of ugly and confusing, and the price was out ofthis world. There went my dreams of owning a Porsche. I don't thinkthat I ever will own one if it has to be a daily driver.
We talked and thought, and I fell in love with the Z3. I originallyopposed it, because of the stigma of BMWs. But it's been a great car,and my fellow owners have been great too. I know that I made the rightdecision when I bought a 2000 titanium silver 2.8 Z3 with a black topand topaz blue leather (one of the few with this combo that I havefound).
When I leave late from a hard day at work, my baby puts a smile on myface, and my cares melt away. I love the feeling of driving aconvertible; it makes me feel more like part of my surroundings. I lovethe feeling of driving it even more when I am driving on the twisties. My husband loves it too:) I finally have a car that will handle the wayI like to drive. I also find the Z3 to be the sexiest of all of theroadsters; its curves remind me so much of a beautiful woman that I feelmore beautiful when I drive it.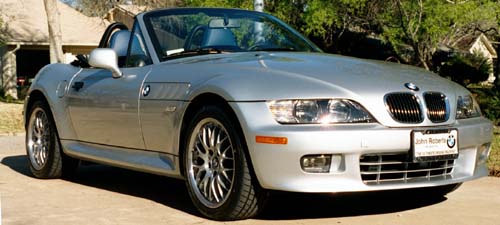 Z3 Girls:
Elaina
Faith
Z3 Girl Groups
Jayne
Jeanine
Karin
Kathy
Laurie
LiZZZ
Lori
Mary Lee
Melissa
Silvy
Pn
Kelli & Sandi
Shannon
Shawn
Sonia
Sophia
Terri
Vicky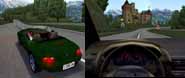 Z3 Girls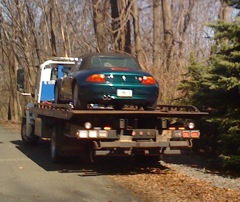 Esmerelda's Home Page