iPod/Satellite/Gadget Your Z3
this page updated September 15. 2008
Wanna hear your iPod/Satellite Radio/gadget through the speakers in your car?


For the purpose of this article I speak about the iPod and Satellite Radio, but the same issues apply for all the gadgets that you might want to play through your car's speakers.

Options:
1-You can use an FM transmitter/modulator
2-You can use Aux In
3-You can use an Interface Kit

FM Transmitter:
Pros: Cheap & Easy.
Just plug in a transmitter like this iTrip:

to your iPod
Or this install an FM modulator like this Delphi SA10003:


| | |
| --- | --- |
| | Price Range: ($19.98 - $39.98) |

to listen to your SKYFi or Roady portable XM tuner or any RCA audio device (May require an antenna adapter.)
and tune your FM radio to the prescribed station. Whatever is playing on your iPod you will hear on that station. There are probably FM transmitters for non-iPod mp3 players too. An FM transmitter also leaves your CD changer connection available. Both of these pictured FM units have been discontinued. Most manufacturers listed below for Interfaces have switched to this "wireless" method for older cars and radios.

Cons: For the iPod: The sound isn't very good. (2007 note- the sound quality may be improving.) People living in areas with a lot of radio stations have reported problems with interference, you want a station that's ALL static. Depending on the device, it may not power your iPod, so when the iPod battery dies, you have no music. You have to control the iPod and look at the small iPod screen. For the XM, Al in Fishkill writes:


I used a pro mount

and a in line modulator (Delphi SA1003) mounted under the console just in front of the shifter. The XM antenna is stored in the gap between the trunk lid and the car body. I move the antenna to the outside of the car in the area between the trunk and convertible top when I want to hear XM. It is out of my way while cleaning and also not visible when parked, it only takes a few seconds to move it.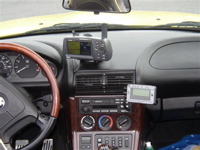 Al's XM set up



Aux-In:
Pros: The sound is great. Volume control works on your radio to control the iPod/gadget. One cheap and easy cable behind your radio and you're done.

Cons: Although it's great for Traffic Pro owners, the BMW Stock Radios for Z3s do not have Aux-in, and in my humble opinion by the time and money you spend on an Aux In Kit like this:

BSW Auxiliary Audio Input Kit for BMW's SKU: BSW.AUX.INPUT $189.99 (on June 24, 2007)
This kit creates an auxiliary input for your iPod / MP3 player, Satelitte Radio Receiver, or any electronic device utilizing an 1/8th" output (such as a laptop, portable DVD player, or cassette recorder). Works with all 1996 and up BMW's.You cannot have both your CD changer and Auxillary Input Adaptor. Cables will need to be run from the trunk to the front of the vehicle. The extremely high quality shielded RCA cable's used will ensure the sound quality is not further degraded as the signal travels nearly 15 feet throughout your car.
Parts:
-Monster Cable 2 Channel 5 meter RCA Cable
-RCA to 1/8" adaptor
-SoundGate AUXBMW Auxiliary Input Adapter
For:
BMW 3 Series E36 '92-'99 Compact
BMW 3 Series E46 '99-'06 (Convertible, Coupe, Sedan, Wagon/Touring)
BMW 5 Series E39 '97-'03 (Sedan, Wagon/Touring)
BMW 7 Series E38 '95-'01
BMW 8 Series E31 '90-'98
BMW M Series M3 E36 '95-'99 (Convertible, Coupe, Sedan)
BMW M Series M3 E46 '01-'06 (Convertible, Coupe)
BMW M Series M Coupe '99-'02
BMW X series X3 E83 '04+
BMW Z Series Z3 '96-'02
and then have it installed (including running the cable to the trunk), you may as well buy a Traffic Pro or other head unit that has Aux In, and then you can run a cheap (~$35) simple Aux In cable to the iPod/gadget in the cockpit. You also have to give up your CD Changer if you use Aux In. You can not have both because the Aux-In takes the place of the CD Changer. You can only have one. Very Highlander.

Interfaces:
Note: It looks like the manufacturers are giving up on making interfaces for older cars/radios. Instead they are making "wireless" solutions like the FM transmitters
Pros: The sound is great. It charges your iPod/gadget. Depending on which interface you get you may have other features like seeing the song titles through an optional display, being able to control the iPod/gadget from the radio controls. You could hide your iPod/gadget from view because you don't need the iPod/gadget controls, leave it in your glove box like the oem BMW iPod interface- (BMW doesn't offer an oem iPod interface compatible with the Z3).

Cons: Varies. Some but not all apply so far. Any interface that requires you to run a cable to the trunk (to access your CD Changer connection) is going to be a beast to install in a Z3 roadster. Some of these interfaces can be hooked up entirely within the cockpit.To get reliable performance from an interface -so far- you have to give up something. Then they stop making the interfaces before they work out all the bugs. Dension made an interface kit that connected at the head but it didn't show song titles and then they discontinued it. Then they made the DICE interface which shows song titles but has to run a cable to the trunk- and I am not sure it works. Monster made an interface kit that showed song titles, but half the time they sent the cable that runs to the trunk, the other half they sent the cable that goes to the cockpit, it works wonky- dying inexplicably and other bothers requiring reboot (you can reboot a Traffic Pro, I have no idea what a stock radio user could do with that issue)- and then Monster stopped making it. BMW has some strange I-BUS features in our cars that don't play nice with aftermarket devices. It's hard to keep up with the new interfaces coming out, how well they work and then they go off the market. This page is the best I can do to keep up at this point.
I want an interface that will:
a) show song titles
b) hide the iPod from view to discourage thieves, and a cleaner dash
c) power and charge your iPod so it's always ready to play
d) use the car radio usual track advance buttons to navigate the recordings on the iPod, again this allows you to hide the iPod to reduce theft and also lets you keep your eyes on the road
e) no requirement to run a cable to the trunk (coupés may feel different about this issue) I will not run a cable through to my trunk ever again unless I know for a fact that a unit will work reliably. I am also going to work with a fabulous stereo tech and some inspired DIY folks for a work-around solution. He uses Mitchell On Demand for wiring diagrams for all the cars. More on that when I have it.
These days the companies that make interfaces can't even keep their own web sites up to date with information, this is the last I knew, but by the time you read this it's probably changed again:

Dension: Icelink, Icelink Plus and DICE - Early version works with BMW Traffic Pro and connects at head, later DICE version requires cable run to the trunk, doesn't work with Traffic Pro, (no stock Z3 report)
Neo iOn-1, ProLink -must run cable to trunk, use iPod controls, adds Aux In with button switch (no owner report)
Monster iCruze - discontinued. Optional song title display. Flakey performance requiring reboot/car shut off. (Z3 stock radios can not reboot, Traffic Pros can.) Connects at head or trunk. Rachel's install, JonT's report (manuals archived here too.) ( no stock Z3 report)
Blitzsafe Universal -iPod control only- can't use radio to advance tracks or show song titles. Requires cable to the trunk. (no owner report)
Phatnoise Phatbox varied reports with the BMW Traffic Pro works with 4773 and other versions, (no stock Z3 report).
Harmon Kardon Drive + Play - and June 2007, Drive + Play 2- You have to add a controller instead of using your radio keys, but you get song titles and more. (no owner report)
BobinCalifornia's HOME MADE iPod interface - get out your soldering irons!
See also icarkits.com

Note: I have a BMW US Traffic Pro instead of a BMW stock Z3 radio, which kind of puts me in a middle ground. For our purposes, it means that I have I have access to all the BMW electronics including the CD-Changer, but I also have Aux-In which the stock unit does not have and can reboot my head unit, which the stock Z3 unit can not do. (I also have talking GPS Navigation through the Traffic Pro which the stock radio does not have. Traffic Pro also sounds better than the stock radio. I highly recommend upgrading to a Traffic Pro.)

All the interfaces connect like this: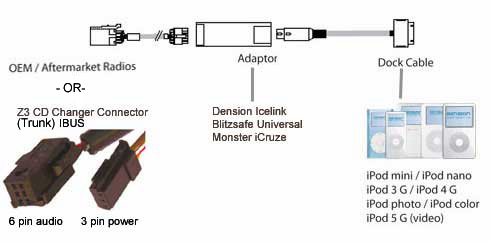 Below are pics from my Monster iCruz install, showing some of the space I save in the trunk.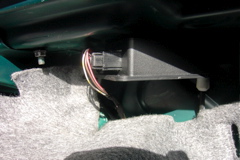 Steve stuck my iPod interface adaptor in place of the CD changer in the trunk temporarily


Before: The CD Changer

After: the iPod Interface
(Regaining considerable SPACE in the trunk! As well as thousands of recordings!)
visitors since April 22, 2006
~~~~~~~~~~~~~~~~~~~~~~~~~~~~~~~~~~~~~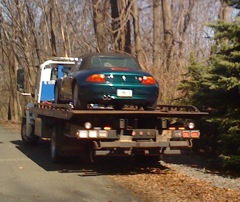 Esmerelda's Pages ~ Z3ers.com