The Book of UNGO
May 17, 2004 Update
About Remotes
(Please check wiring changes in 2001 and later Z3s)
With sincere thanks to Dave T, William W. Gusky, Circle BMW, Ziggy, to
, Esteves, Mike Frank, Tom Young, Fred Kern,
, Vince Parsons, BobCz and all the other people and places I referenced without asking permission (please don't get mad, if anyone wants a change in credits or removal, just ask.) and in the true James Bond Tradition, our very own "Q", Harvster. None of us are professional alarm installers and this story is just my own experience, no responsibility implied, mess with your electrical system and your own BMW warranty at your own risk. Permission is given for non-commercial use to link to this link and use my images *ONLY* if credit is given with a link back to this page.
Harvster said anyone who can install a LeatherZ armrest can install an UNGO. He did all the work for me, sourcing and configuring and soldering. All I had to do was put it in my car. Uh huh.
I got my UNGO MS8300 on Ebay for $145
They had just been discontinued
~May 19, 2002 Update~
Matt just bought an UNGO MS8300 on ebay for $91.
~~
What else am I going to do for the month of February? Spend time installing things on my car, naturally. And boy oh boy did I!
Removing A Pillars, Removing Glove Box, Removing Armrest, V1+GPS Hardwiring, Center Console Removal, Footwell Light Install, Vinyl Repair Kit, Removing armrest lids, Euro alarm LED

Preparing:
Assembling all the parts and tools, planning options, planning for life without a battery, (you will need to reprogram your oem BMW radio, get the code, reset one touch windows by holding down the button after it's raised...) getting the blanks drilled, solder connections, pen and paper, snakelight, extra batteries for snakelight, drilling out the hole in the siren bracket, read all through the Book of UNGO to pick up more bits you might need based on what you want to do...
Installing Components:
Removing Stuff to find places for Siren, LED, Cutoff Switch, Space Shield, Logic Sensor, UNGO cpu, variables
Without a battery:
Making connections
Once the battery is reconnected:
Recoding radio, windows, learning your UNGO functions, training the driver
When you get this: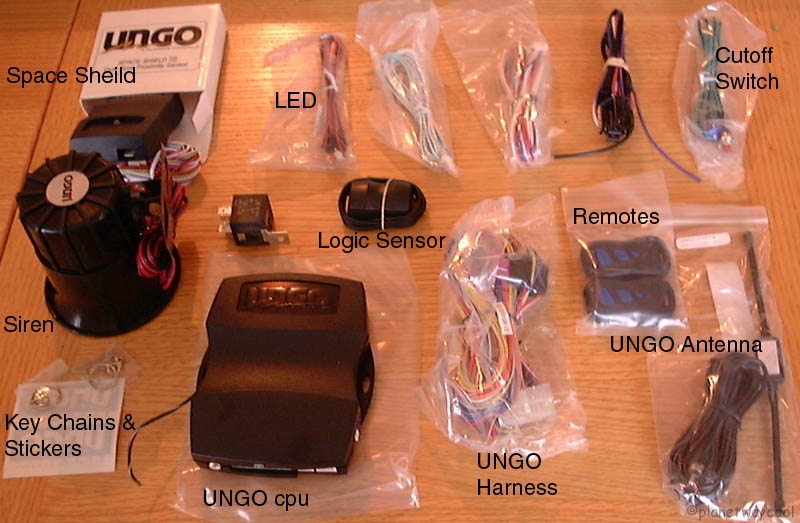 You want to end up with something like this: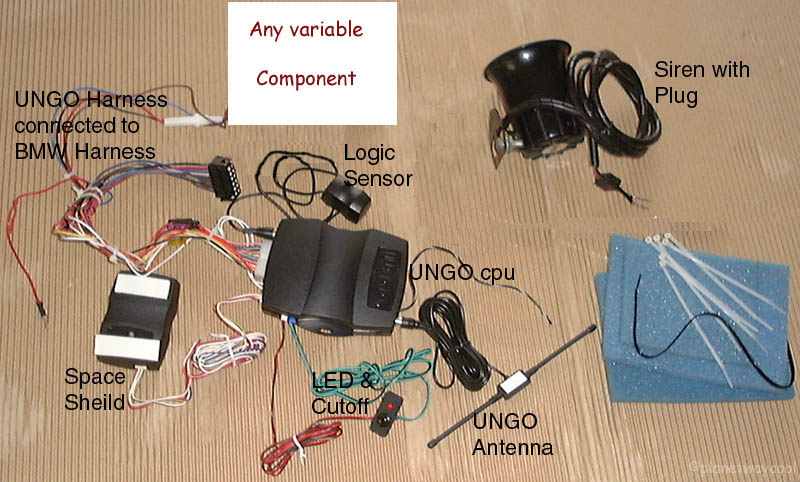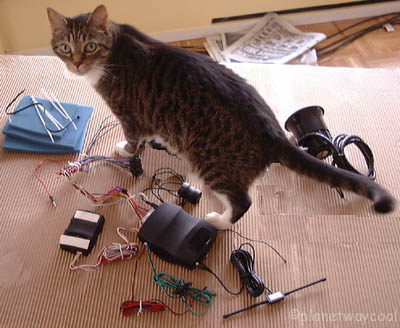 Here is the optional cat attachment trying to eat my tie wraps.

Harvster did all the soldering and connecting.

wouldn't have to cut ANYTHING on my car, no permanent changes. No problem. My UNGO set up is full of so many special gadgets, I really feel like a secret agent. I am not even going to tell you all the things my UNGO can do.
have read the Book of UNGO since February 13, 2001